Executive Leadership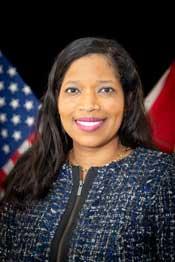 Shevaun Harris
Secretary
Shevaun Harris joined the Department of Children and Families as the Secretary in February 2021 after a nearly two decade career at the Agency for Health Care Administration.
Prior to joining DCF, Secretary Harris served as Acting Secretary at the Agency for Health Care Administration, where she was responsible for administering the Florida Medicaid program and regulating over 40,000 licensed health care facilities in the state. She also led the Agency's COVID-19 efforts in partnership with other state agencies and essential health care providers. Secretary Harris has held positions in the health and human services field, providing services to children and adults diagnosed with HIV/AIDS and children receiving services in an inpatient psychiatric program. During her tenure at the AHCA, Secretary Harris led the development of all Medicaid policies and implementation of the agency's quality improvement initiatives with particular focus on perinatal and behavioral health outcomes. 
Secretary Harris is an innovator, spearheading the development of the State's Canadian Prescription Drug Importation program. She has led several major implementations and served as the lead negotiator for multi-billion-dollar contracts under the Statewide Medicaid Managed Care program.
Joining DCF in early 2021, Secretary Harris has made holistic care for families a priority by strategically working to integrate systems and services. In September 2021, she joined First Lady Casey DeSantis in launching Hope Florida – A Pathway to Prosperity, a personalized approach to helping families overcome barriers to self-sufficiency through community collaboration. Secretary Harris continues to drive innovative prevention and early intervention efforts through the work of the Department and community partners.
She received her bachelor's degree in psychology, a master's degree in social work from the Florida State University and a master's degree in business administration from Quinnipiac University.
---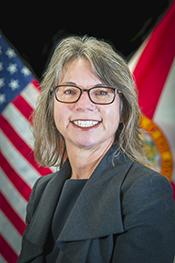 Molly McKinstry
Chief of Staff
Molly McKinstry joined the Department of Children and Families after ten years as Deputy Secretary for the Florida Agency for Health Care Administration. At the Agency, she was responsible for regulation of over 42,000 heath care providers, including acute and psychiatric hospitals, nursing homes, assisted living facilities, home health agencies and managed care organizations; the Florida Center for Health Information and Transparency; and Medicaid Program Integrity.
Mrs. McKinstry has worked for over twenty-five years in health care policy in both regulatory and Medicaid roles, leading regulatory reforms, initiating technology systems for licensing and regulation, and advancing the state's health information exchange, health care provider emergency response, and multi-agency enterprise systems.
---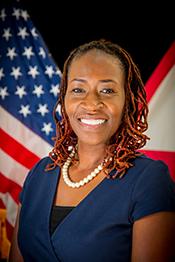 Sharron Washington
Assistant Secretary for Quality and Innovation
DCF's Assistant Secretary for Quality and Innovation, Sharron Washington, began her career as an Abuse Registry Counselor in 1999 at the Florida Abuse Hotline and has served the Department for over 20 years. During that time, she has held several leadership roles, including Assistant Secretary of Operations, Operations Manager for the Family Safety Program, Director of Economic Self Sufficiency for the Central Region, as well as Regional Managing Director for the Central Region. Ms. Washington's plays a critical role in leading the work on identifying ways to engage families through strategic partnerships and community collaboration. Her leadership approach is to constantly learn and improve policy and process to more efficiently serve the citizens of the state of Florida. Ms. Washington enjoys spending time with family and traveling during her spare time. She holds a bachelor's degree in criminology from Florida State University. She is a Certified Public Manager and previously served as a Sterling Examiner.
---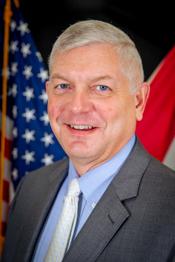 Tony Lloyd
Assistant Secretary for Administration
Prior to joining the Department, Tony Lloyd served the Florida House of Representatives as Budget Chief for the Justice Appropriations committee as well as Higher Education Appropriations committee where he ushered a collective $12 billion budget directly impacting Florida's criminal justice, higher education, and vocational rehabilitation agencies.
Understanding how public services benefit local communities is a lesson Mr. Lloyd learned early in his professional career. For ten years, he worked in local government managing city and county operations in four Georgia communities. Mr. Lloyd is an experienced leader in overseeing operations for complex organizations at both the state and local levels.
As the former Chief Financial Officer for the Florida Department of Economic Opportunity, he managed a large division responsible for multiple facilities, monitoring Federal workforce and unemployment programs, and providing human resources and programmatic financial support for employees.
As a member of the armed forces, Mr. Lloyd served in several leadership roles with the Georgia Army National Guard and Joint Detention Operations Group in Cuba. He earned his bachelor's degree in political science and master's degree in public administration from Georgia Southern University.
---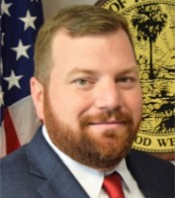 Casey Penn
Assistant Secretary for Economic Self-Sufficiency
Casey Penn currently serves as the Assistant Secretary for the Office of Economic Self Sufficiency, Florida Department of Children and Families (Department). In this role he oversees the Supplemental Nutrition Assistance Program, Temporary Assistance for Needy Families, Medicaid determinations, Refugee Services, and the Office of Homelessness. Prior to joining the Department, Casey worked in workforce development, overseeing the administration of the Workforce Innovation and Opportunity Act for the Florida Department of Economic Opportunity.
Originally from Tampa, Florida, Casey holds a Bachelor of Science in Applied Economics from Florida State University and currently resides in Tallahassee, Florida. After graduating from college, Casey worked in the private sector for 10 years in various sales management roles before returning to the public sector in 2017.
---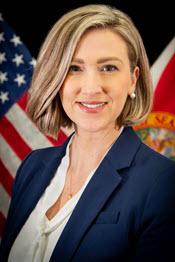 Jessica Tharpe
Assistant Secretary for the Office of Child and Family Well-Being
As the Assistant Secretary of the Office of Child & Family Well-Being, Jessica Tharpe is leading a transformational shift from a traditional child welfare system to one that values lived experiences, holistic and family-centered services, and integrated programming to promote improved long-term outcomes for some of Florida's most vulnerable children, adults, and families. She oversees the system of care, including the Florida Abuse Hotline operations, child and adult protective services, policy and strategic initiatives, community-based care, prevention services, and protecting special populations.
Mrs. Tharpe previously served as the Director of Innovation and Project Management in the Department's Office of Economic Self-Sufficiency and as the Deputy Assistant Secretary for the Office of Child Welfare. In these roles, she led several strategic initiatives to enhance the customer experience including the launch of MyFloridaMyFamily, Florida's Foster Information Center, and the Office of Continuing Care. Before coming to the Department, she served in various leadership roles within the non-profit industry, higher education, and the private sector, where she led program development, contract and grant management, business development, administration, and continuous quality improvement. She lives in Tallahassee with her husband and two children and is active in her church.
---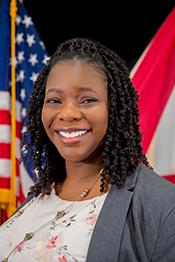 Erica Floyd-Thomas
Assistant Secretary for Substance Abuse and
Mental Health
Erica Floyd Thomas joined the Department of Children and Families in April 2021 after 20 years of serving the State of Florida at the Agency for Health Care Administration in various leadership roles. As the Assistant Secretary for Substance Abuse and Mental Health, Mrs. Thomas is responsible for ensuring that individuals with substance use disorders and/or behavioral health needs can access services needed.
In her previous roles, Mrs. Thomas directed the implementation of the Medicaid Housing Assistance Pilot program. This program was established to provide evidence-based community supports and services for Medicaid-eligible individuals who are homeless or at risk of homelessness and have serious mental illnesses or a substance use disorder. Additionally, she aided in the implementation of a multidisciplinary team approach for applied behavioral analysis services for children to ensure access to care and managed the deployment of open access for medication assisted treatment to sustain recovery and aid in the prevention of overdoses. During her tenure with the Agency for Health Care Administration, she and her team promoted and optimized the use of telemedicine in various health care settings, including those with a primary behavioral health focus.
Mrs. Thomas holds two degrees from Florida State University; a Bachelor of Science in Family and Child Science and Master of Social Work.