DCF Auxiliary Aids and Service Plan
The Americans with Disabilities Act of 1990 (ADA), Americans with Disabilities Act Amendments Act of 2008 (ADAAA), and Title VI of the Civil Rights Act of 1964 (as amended), requires recipients receiving federal financial assistance to develop procedures, policies, and protocol to provide auxiliary aids for persons with disabilities and Limited English Proficient.
This guide provides protocol and available resources for the implementation of Departmental policy and procedures for the provision of auxiliary aids and services in ensuring accessibility to all programs, benefits, and services to persons with disabilities and foreign language interpreters for persons with Limited English Proficiency.
ADA, Section 504, and LEP Coordinators
Human Resources Administrator – Civil Rights
Nana Gatlin
Phone: (850) 717-4080
Civil Rights Assistant
Linda White
Phone: (850) 717-4577
Compliance Manager – Civil Rights
Richard (Dick) Valentine
Phone: (904) 485-9682
Fax: (904) 723-2144
Office
2415 North Monroe Street
Suite 400, Room D-112
Tallahassee, Florida 32303
Phone: (850) 487-1901
Fax: (850) 921-8470
TDD: (850) 922-9220
Email: @email
ADA, Section 504, and LEP Coordinators by Region / Facility
Select your region on the map below to view contacts.
Northwest Region
Counties served: Escambia, Okaloosa, Santa Rosa, and Walton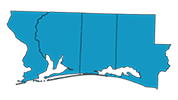 Counties served: Bay, Calhoun, Gulf, Holmes, Jackson, and Washington

Counties served: Franklin, Gadsden, Jefferson, Leon, Liberty, and Wakulla

Northeast Region
Counties served: Columbia, Dixie, Hamilton, Lafayette, Madison, Suwannee, and Taylor

Counties served: Clay, Duval, and Nassau

Counties served: Flagler, Putnam, St, Johns, and Volusia

Counties served: Alachua, Baker, Bradford, Gichrist, Levy, and Union

Central Region
Counties served: Citrus, Hernando, Lake, Marion, and Sumter

Counties served: Orange and Osceola

Counties served: Hardee, Highlands, and Polk


Suncoast Region
Counties served: Pasco and Pinellas

Counties served: De Soto, Manatee, and Sarasota

County served: Hillsborough

Counties served: Charlotte, Collier, Glades, Hendry, and Lee

Southeast Region
County served: Palm Beach


Counties served: Indian River, Martin, Okeechobee, and St. Lucie

Southern Region
County served: Miami-Dade